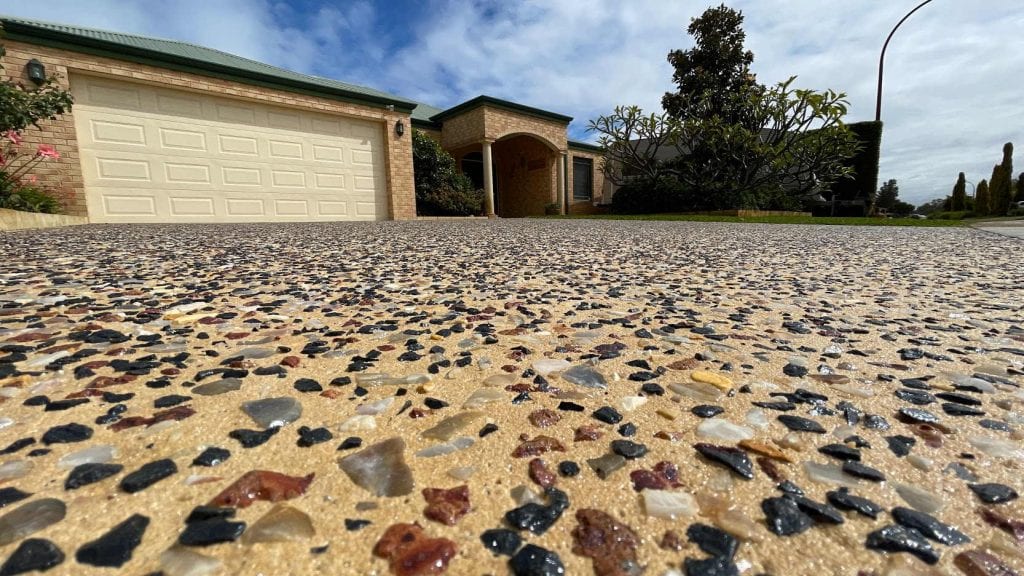 When you bought your home, you knew you would make decisions about its care and upkeep so it grows old with you. You do regular maintenance and maybe even some home renovations.
You make design decisions like what colour to paint your walls and which furniture to buy.
The outside of your home should get the same focus when it comes to care and design. You want a 
yard that is inviting
 and landscaping that showcases your home.
Using exposed aggregate is one design decision you can make for your home that has many benefits. Read on to learn why 
exposed aggregate
 would be a great choice for your home design. 
What is Exposed Aggregate?
Exposed aggregate is a type of durable and decorative concrete. Its decorative features are often compared to a piece of granite or marble because of the colour variations and decorative qualities.
Exposed aggregate is a type of concrete. The concrete is poured then often the layer of the concrete is pulled away. This exposes the aggregate stones that are part of the concrete. The aggregate stones could be mixed as part of the concrete before it was laid or are placed in the concrete when wet so they are exposed. 
Where Can Exposed Aggregate Be Used?
Another way to use exposed aggregate is on vertical surfaces. Exposed Aggregate Perth can use the aggregate material to create decorative retaining walls. It can also be used as an architectural feature as part of a building design. Cities are commonly using this material to also build sound barrier walls along busy roads.
Benefits of Exposed Aggregate
While there are many new types of decorative concrete on the market, exposed aggregate has been around for a while and remains a popular choice. The many benefits of exposed aggregate have kept it at the forefront of decorative concrete choices. Let's take a closer look at the advantages and benefits of selecting exposed aggregate concrete.
One feature of exposed aggregate is the level of safety it provides. The exposed aggregate surface offers improved traction therefore making it a nice safe surface.
An exposed aggregate driveway will withstand heavy wear and tear and will resist cracking which also prevents tripping. When exposed aggregate is used for sidewalks and walkways, it is also safer and there is less chance of slipping because of the surface of the exposed stone.
Many like to use exposed aggregate around their pool areas. As your family and guests go in and out of the pool and are wet, there is less chance of slipping than you would have with a smooth concrete surface. 
Let's face it, installing a new driveway, sidewalk, or patio area is a big investment in your home. You want it to last for years and years into the future.
Exposed aggregate is every bit as strong as regular concrete and can withstand many of the cracks and shifts that sometimes happen with plain concrete.
When used on a surface like a driveway where it will get regular wear and tear it stands up to it. It is also quite durable against the weather and lasts well over time. 
As a homeowner, you like any investment that won't require you to maintain it year after year. Exposed aggregate requires very little maintenance. Once it's installed, it will get a protective seal coat. You will need to redo that every few years to help extend the life of the concrete.
If you have ever had a plain concrete driveway or sidewalk, you know how frustrating stains can be. The exposed aggregate does not show stains and requires much less cleaning than plain concrete might. 
Wide Array of Decorative Options
A huge feature of exposed aggregate is the wide array of decorative options you have when installing it. You can select from a wide selection of decorative stones to be a part exposed. This gives you many options to create the aesthetic look you hope to achieve around your home.
There is a wide range of stone options that can also vary in price. When making decorative decisions, you want to consider the features of the stone you select for your exposed aggregate. Some features to consider include:
There are also a variety of decorative ways the exposed aggregate can get installed to create additional design features. This is especially nice to consider for sidewalks, patios, and pool surround areas.
Any time you make an investment in your home, you hope it will have a long term impact and add to its value should you ever choose to sell your home.
The exposed aggregate will add to your home's value because of its durability and design features. You know how important curb appeal is for any home. Consider the added curb appeal your new exposed aggregate driveway and sidewalk can add to your home. 
Of course, you want to select a concrete service who is an expert and knows the correct way to install. The installation is quite easy making it easy for the homeowner. A concrete service has the tools and expertise to install with ease and create the decorative and durable look you want to achieve. 
Use Exposed Aggregate Around Your Home
Are you convinced yet of the value of exposed aggregate for your home? With many benefits over traditional concrete, you should consider exposed aggregate for your driveway, sidewalk, or patio area.
Want more information about our products and services, contact us today to learn more about exposed aggregate.